The New School
Jane Ira Bloom is currently a professor at The New School's College of the Performing Arts School of Jazz, 55 W. 13th St, New York, NY 10011. BloomJ@newschool.edu

Click here to check out Jane's "Aims of Education" address at the 2002 New School University convocation at Tishman Auditorium in NYC, as well as those by President Bob Kerrey and honorary doctorate recipient Judge Baltasar-Garzon of Spain.
---
The Pilobolus Dance Company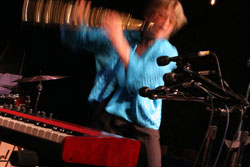 Look for Jane's original jazz score for dance The Doubling Cube (1995) commissioned by the Pilobolus Dance Company. Instrumentation features Jane (soprano saxophone & live electronics), Jerry Granelli (drums, elektro-acoustic percussion) & Harvie Swartz (bass).

The score premiered at the Joyce Theatre, NYC in July, 1995.
The Pilobolus Dance Company performs The Doubling Cube on tour world-wide.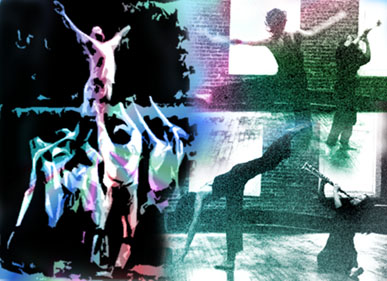 ---