Dance
2011: Impromptu for Janet w/ Carmen deLavallade, Celebrating Janet Collins at 92nd St Y, NYC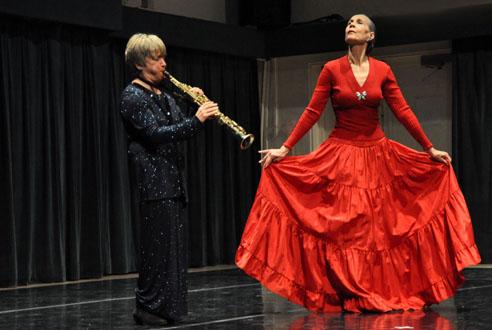 ---
"The 5th Wheel"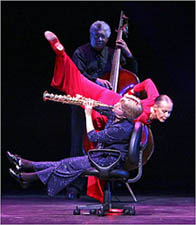 Jane Ira Bloom performed the world premiere of "The 5th Wheel", a new collaborative work with legendary dancer/ choreographer Carmen deLavallade on Friday, September 28, 8:00pm at NY City Center's Fall for Dance Series. "The 5th Wheel" was the latest piece in a continuing collaboration between legendary dancer/choreographer Carmen deLavallade and Bloom. It explored the spatial and sonic relationships between a dancer on wheels and a jazz quartet with one musician on the loose. The music based on Bloom's original piece "Ice Dancing" featured a quartet of jazz improvisers onstage including bassist Rufus Reid, drummer Jerry Granelli, and pianist Dawn Clement and was the springboard for deLavallade's playful and evocative choreography. Bloom & deLavallade also appeared on a panel entitled "Dance & Music: A Dynamic Dialogue" moderated by critic John Rockwell on Thursday, Sept 27, 6:30 – 7:30pm at City Center Studios, 130 West 56th St.
"the ageless Carmen deLavallade, the Lena Horne of dance, was not only as glamorous as ever (in a clinging red outfit) but was full of beans in The 5th Wheel, a vigorous head-to-head with the terrific saxophonist Jane Ira Bloom."
- Robert Gottlieb/ The New York Observer
The Pilobolus Dance Company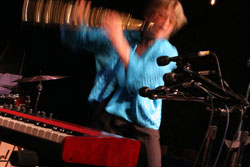 Look for Jane's original jazz score for dance The Doubling Cube (1995) commissioned by the Pilobolus Dance Company. Instrumentation features Jane (soprano saxophone & live electronics), Jerry Granelli (drums, elektro-acoustic percussion) & Harvie Swartz (bass).

The score premiered at the Joyce Theatre, NYC in July, 1995.
The Pilobolus Dance Company performs The Doubling Cube on tour world-wide.